The popular lawn game, cornhole, has been sweeping the nation in recent years, so we are very excited to join the party with our brand new line of officially licensed University of Delaware cornhole games and accessories.
Cornhole offers something for everyone from the casual backyard player to the tournament competitor. In this post, we'll help you figure out which of our new sets is right for you. If you've never played and want to learn more about the game, be sure to check out our previous post, The Blue Hens Guide to Cornhole.
What kind of board do I need?
As with most games, there are recreational and competitive players, so we have different cornhole sets to satisfy the different needs of each group. In general, regulation boards are larger, sturdier and better quality. Tailgate boards are smaller and lighter, so easier to move around. We'll share the pros and cons of each below to help you figure out which will best meet your needs.
Regulation Cornhole Boards
To be classified as "regulation-size", a cornhole board must meet certain requirements as set forth by the governing bodies of cornhole…yes, that exists…LOL! (American Cornhole Organization or American Cornhole Association.)
Our University of Delaware premium cornhole boards meet all of the requirements to be classified as regulation boards as listed below:
Board tops must measure 4 feet in length and 2 feet in width.
Board tops must be made of at least ½" thick plywood.
The hole in the board top must be six inches in diameter and be centered nine inches from the top and 12 inches from each side of the board top edges.
The front of the cornhole board must be 2-1/2" inches from bottom to top and be at near a 90-degree angle to the board face.
The back of the cornhole board must be 12 inches from the ground to the highest point of the board and be at a 90-degree angle to the board face.
The cornhole board playing surface must be finished and/or sanded to a very smooth texture with no imperfections in the board that would disrupt play.
Pros and Cons
When you buy a regulation board, you are getting the highest quality, the sturdiest board and the best game you can buy. Regulation boards are built to last, which means you will get years and years of play out of these boards. The regulation size also means you can hone your competitive skills and be ready to win at the next block party or tournament.
Top quality does come at a price, so regulation games are more expensive than their recreational counterparts. Because they are larger and built so solidly, they are also heavier and harder to move around. Each of our premium boards weighs about 30 pounds and will take a little more room to store and transport.
Tailgate (Recreational) Cornhole Boards
Unlike competitive players, some people just like to play the game for the fun of it. They want to socialize and have fun while tossing the bag. These are the folks who should consider a tailgate board.
Pros and Cons
Tailgate boards are smaller and lighter, so much easier to move around and store. They are also less expensive, so they make a great entry-level purchase for someone who is just getting started with cornhole.
Unlike regulation cornhole boards, there are no real specifications for tailgate boards, so they can come in different sizes. Generally speaking, tailgate cornhole boards are 3′ x 2′ and meet most of the other criteria of regulation boards. That said, we do also offer a 4′ x 2′ tailgate board for those who want the full size, without the full price of a premium regulation board.
The downside to recreational boards is that they don't have as many premium features as a regulation board, are not quite as solid and are often smaller, so you are not able to hone your competitive skills as well.
Desktop Cornole Boards
There is one more option for anyone who loves cornhole and wants to play anywhere at any time…desktop cornhole! This game is small, lightweight and perfect to play indoors or out. Great for everyone from kids to executives…this little set will entertain for hours. Set it up on a desk or kitchen table, in a hallway or on the patio. You can pack it in a bag to take it with you to the park or beach. It takes up almost no room, so very easy to store. It's a fun option if you're just not ready to commit to a larger set.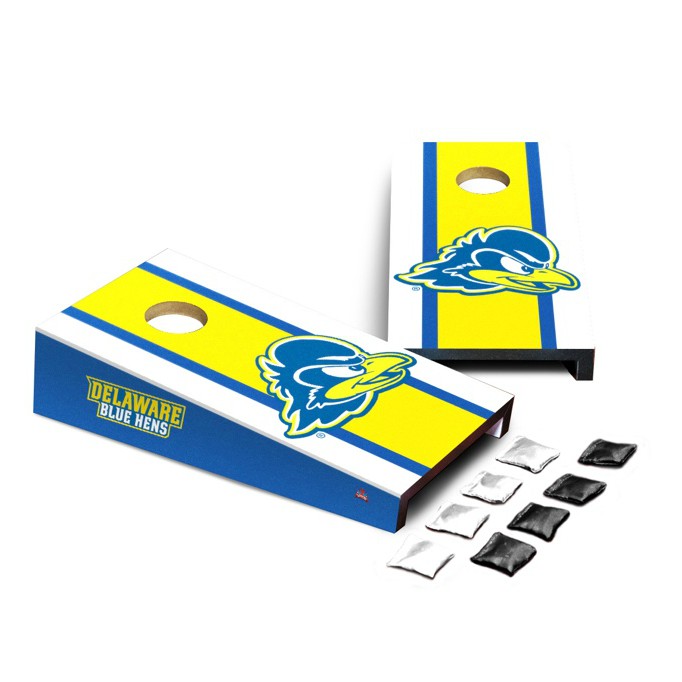 Conclusion
If you are competitive, enjoy having the finer things in life and want a board that is going to last you a very long time, invest in a regulation board.
If you are low-key playing for the social aspect, don't have a lot of space to store your boards or will have trouble moving larger boards around, save yourself some money and get a tailgate board.

A WORD ABOUT CORNHOLE BAGS…
Many bags come filled with corn…surprise surprise! But others can be filled with beans (ie: bean bags) or resin pellets. All of the full-size bags we sell are filled with 100% corn. Most people won't be able to tell the difference between different kinds of fills unless they are very experienced players, but here is what you need to know about corn-filled bags…
Corn-filled bags are what gave cornhole it's name. The bags are usually made with a sturdy canvas (aka: duck cloth) and weigh about 16 oz. each. The bags are easy to hold and throw. Corn dust can also work its way out of the bag and onto the board creating a more slippery surface for the bags to slide on. The downside to corn is that it is organic and can attract bugs or become moldy if not properly cared for.
You will want to be sure to dry your bags completely if you get them wet and then store them in a hard-sided plastic case to prevent critters from munching on them. You can also freeze your bags after use to kill any critters that may have gotten inside.
We hope this helps you narrow down your choice of cornhole board. If you have any questions for us, please don't hesitate to ask! We wish you many fun years of playing cornhole with whichever model you select.