Yes! It's true! National 5 & 10 is proud to announce that we have partnered with The City of Newark, Delaware Municipal Electric Corporation (DEMEC) and Efficiency Smart, to provide Newark residents with a convenient and affordable way to purchase LED lightbulbs. 
For a limited time, City of Newark Electric customers can purchase Greenlite LED light bulbs for $0.99 each at National 5 & 10. We are also excited to tell you that we will be donating 100% of the proceeds from the sale of these lightbulbs to a local non-profit, so it's win-win for everyone! Save money, save energy, and support your local community.
There are six kinds of standard and dimmable LED lightbulbs currently available including:
Standard LED lightbulbs
Dimmable LED candelabra lightbulbs
Dimmable LED medium globe lightbulbs (in store week of 9/20)
Dimmable LED interior flood lightbulbs
All of the specially-priced LEDs meet strict quality performance and efficiency standards and are ENERGY STAR® certified.
Replacing traditional, incandescent light bulbs with LED equivalents is a simple way to save money on your utility bill. LED bulbs last up to 25 times longer than incandescent bulbs and can save you $90 or more over their lifetime.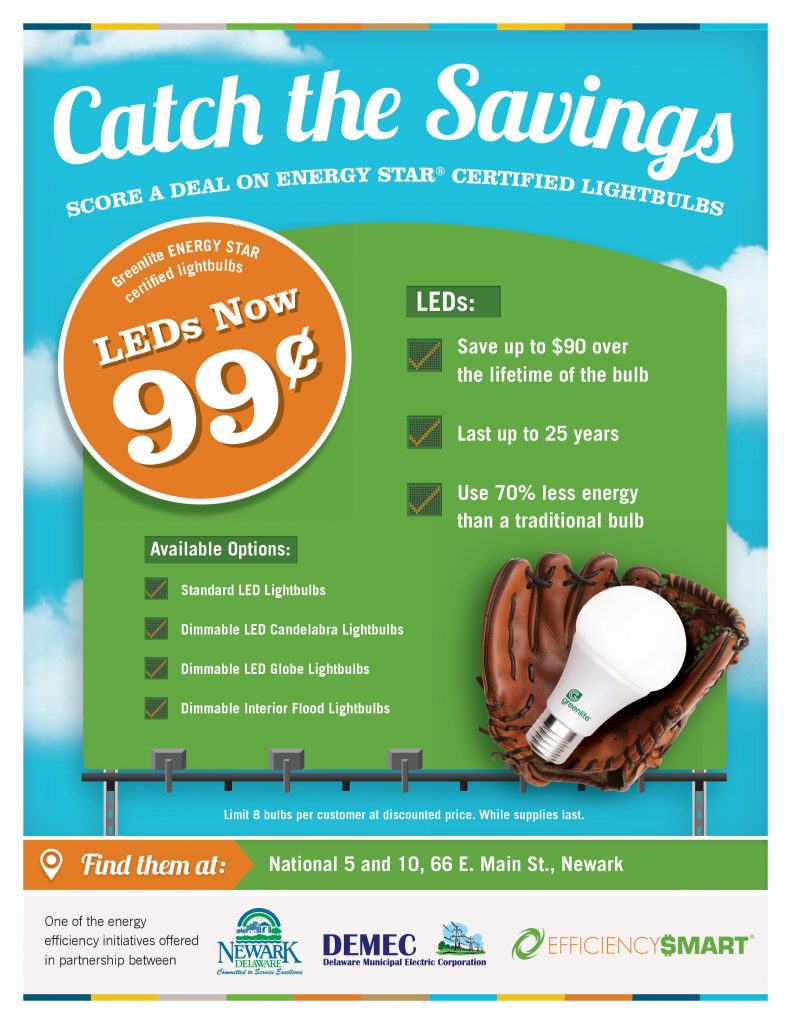 So that we can help spread the love around, there is a limit of 8 bulbs per customer. Offer valid while supplies last. For more information about this program and all of the ways that Efficiency Smart can help you cut your energy costs and save money, visit their website at: www.efficiencysmart.org/newark-delaware