Blue Hens in Wonderland was our theme for Back-To-School 2020. It came about as an extension of how weird and surreal 2020 has been. We figured everyone could use a little escape, so we decided to take a deep dive down the rabbit hole and experience what it would look like if Blue Hens went to Wonderland. The result was a blast to create and in this post, we'll take you behind the scenes to show you how it all came together.
BRAINSTORMING & PLANNING
The first step in bringing any idea to life is a Pinterest board….lol. (Of course!) This is where we collect inspiring images, color palettes, DIY ideas and anything else that might help us round out the story we are trying to tell in the windows. You can check out our Pinterest board for Blue Hens in Wonderland by clicking the photo below.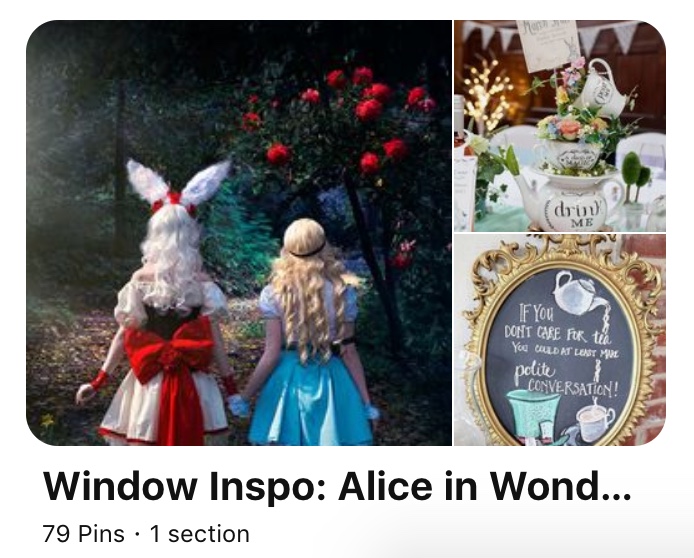 Next comes the planning phase, where we figure out what will go in each window. For Blue Hens in Wonderland, we decided to recreate three scenes from the Alice In Wonderland story: Mad Hatter's (Tailgate) Tea Party, Working (From Home) In Wonderland inspired by Tugley Wood and The Queen's Court. For each window, we figure out what products will make the most sense in telling the story and then start thinking about what kinds of props will help round out the scene. Whenever possible, we use what we sell to create the windows.
As you will see below, we had a lot of fun making bright colorful props for these windows using simple supplies from our craft department.
Mad Hatter's (Tailgate) Tea Party
To pull off a garden party feel in the window, we knew we needed flowers. With the help of our staff, we spent several weeks cutting and assembling the trailing vines of flowers that you see in the window. The vines were made by simply stringing paper and card stock flowers on bakers twine. Friction holds the flowers in place.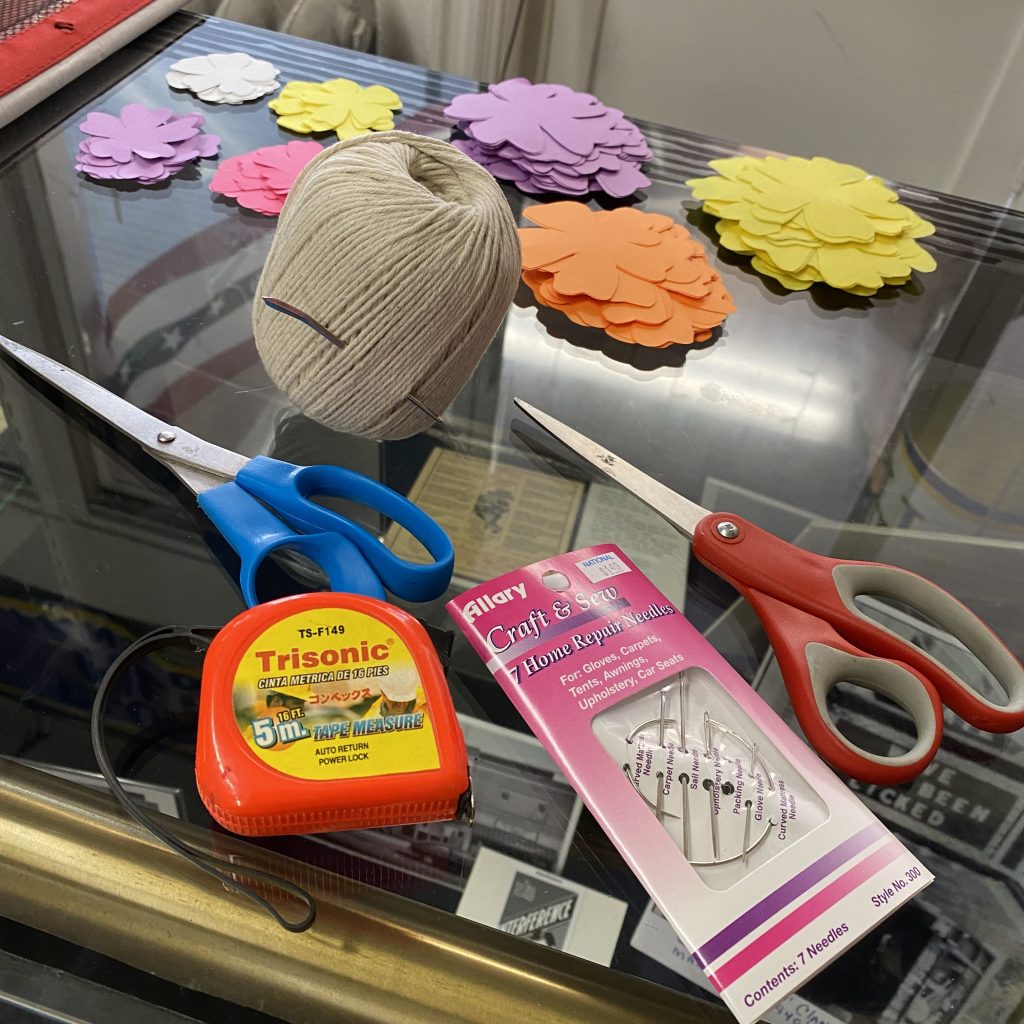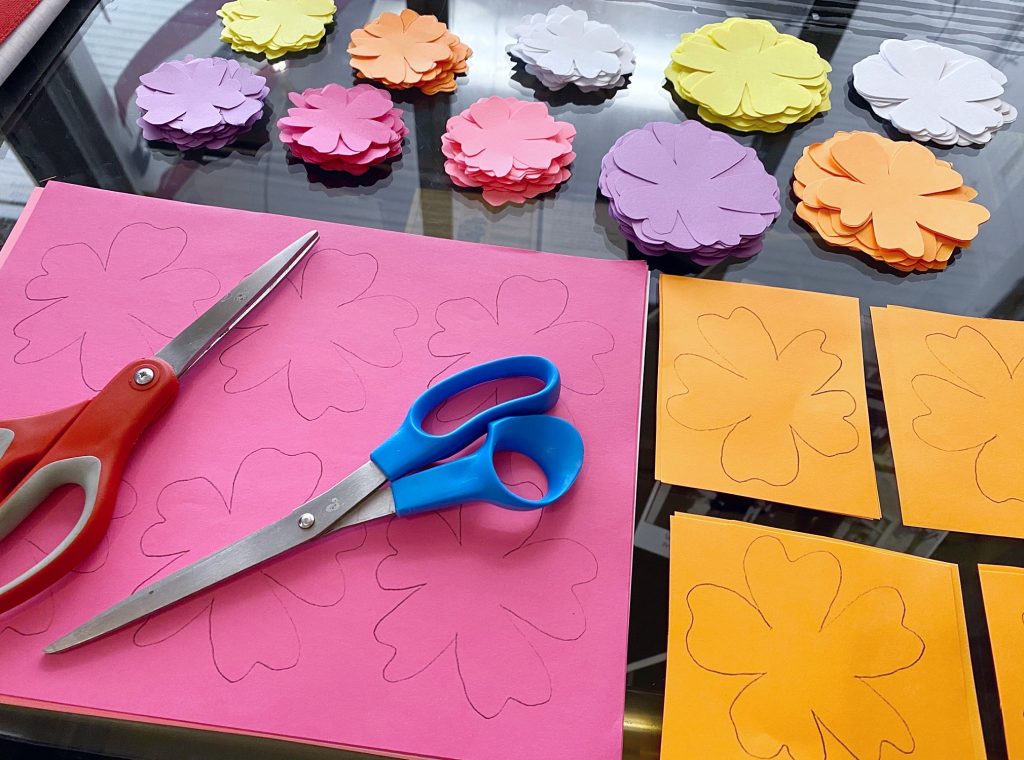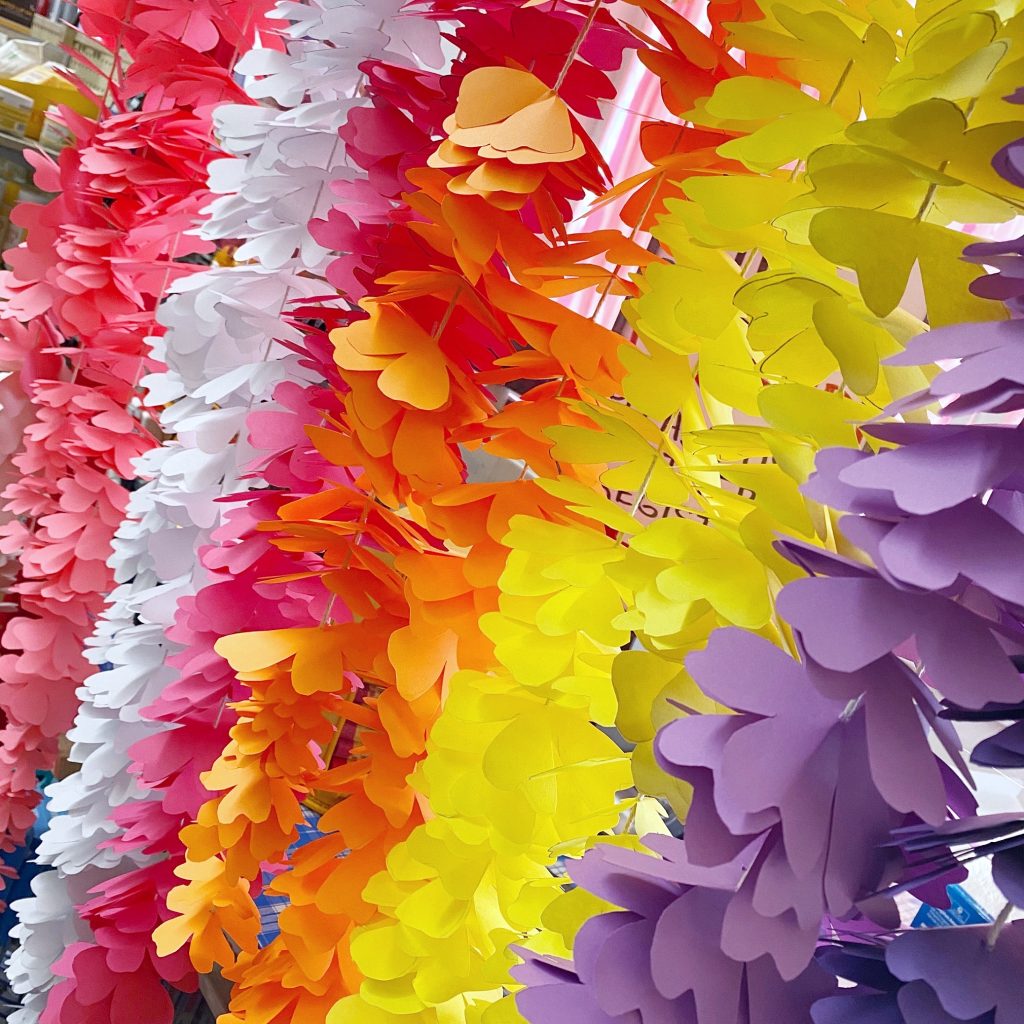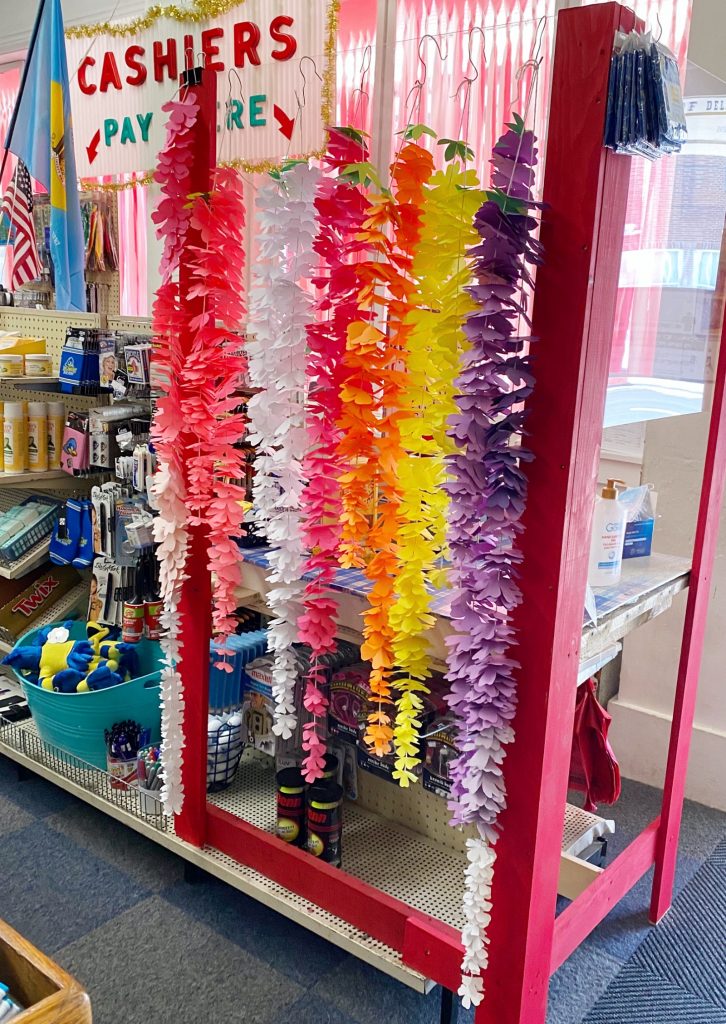 We wanted to hang the vines to make it look like the tea party was set up under a giant tree, so we used recycled packing paper to create the trunk of the tree. This was just tacked to the wall.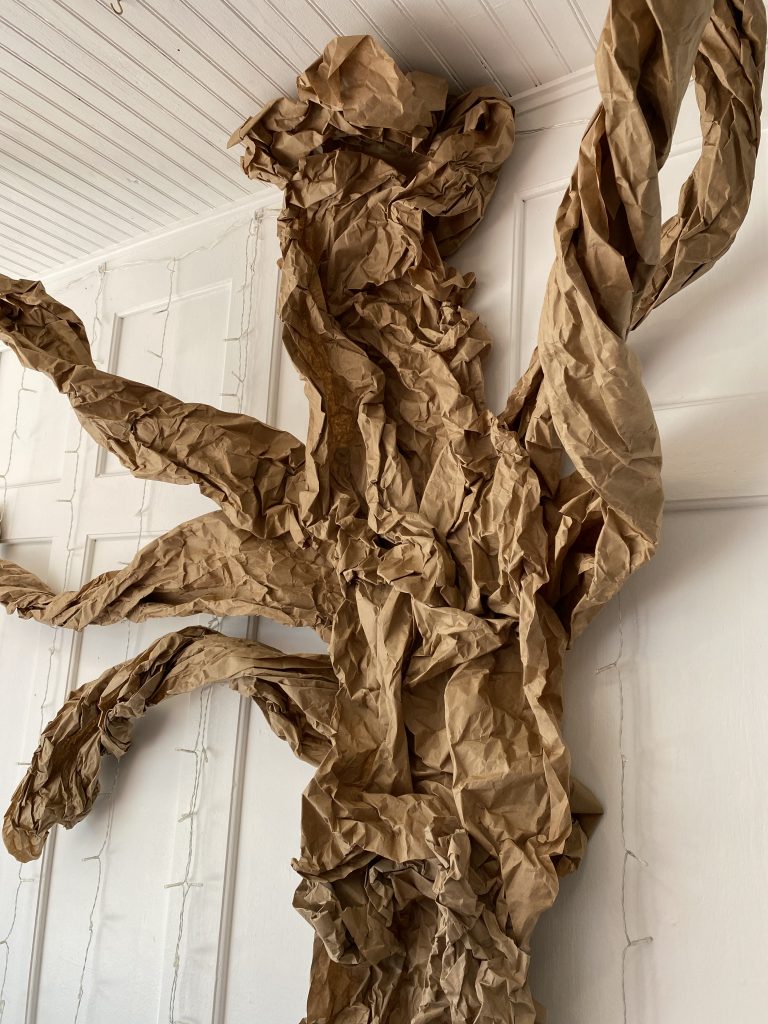 Another fun detail that we had to include was a Cheshire Cat perched in the tree. He was painted by one of our staff members with acrylic paint, brushes and foam core from our craft department.
The Queen's Court
For this window, we wanted to convey the feeling of playing lawn games in the Queen's garden. Heart shaped topiaries with red and white roses call to mind the scene from the book. To create the topiaries, we raided our gift wrap and craft departments for supplies. First we made tons of little leaf bundles using green tissue paper and then applied them to heart shaped foam core boards.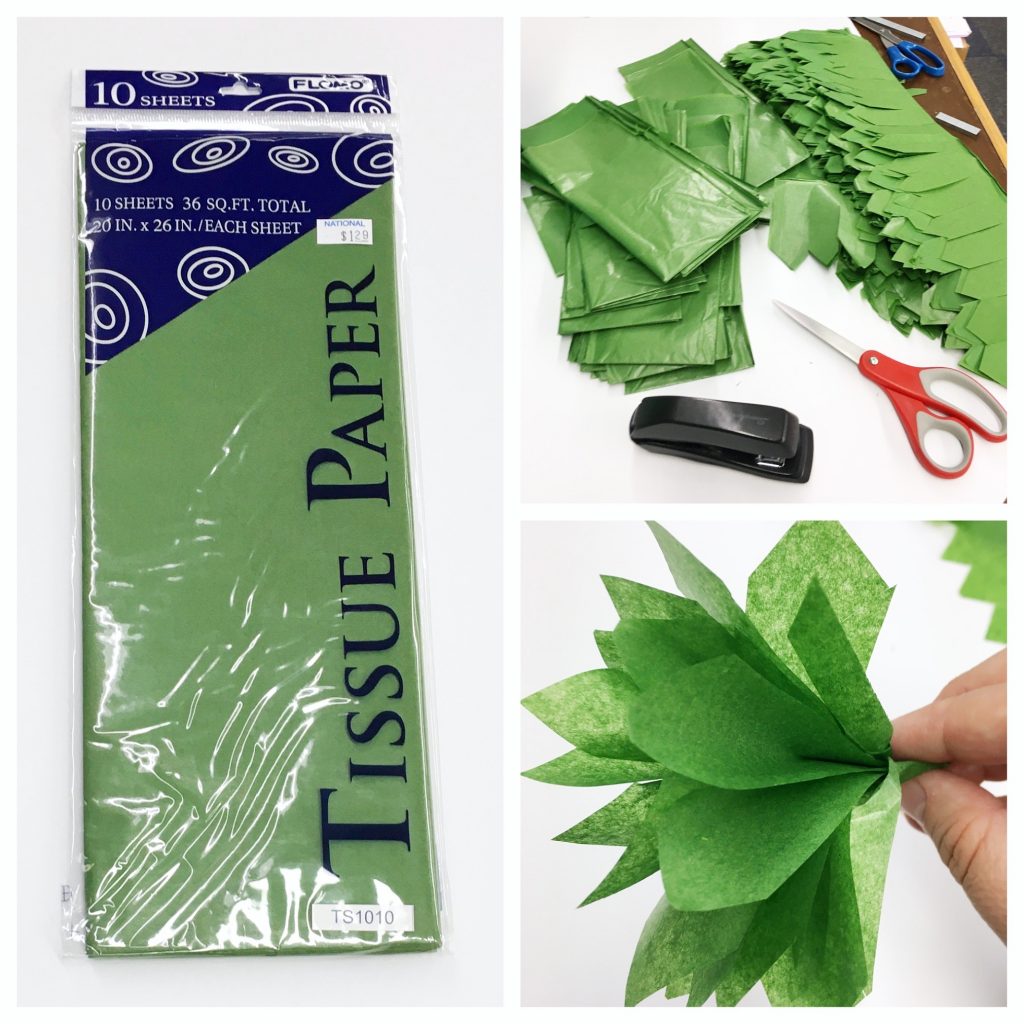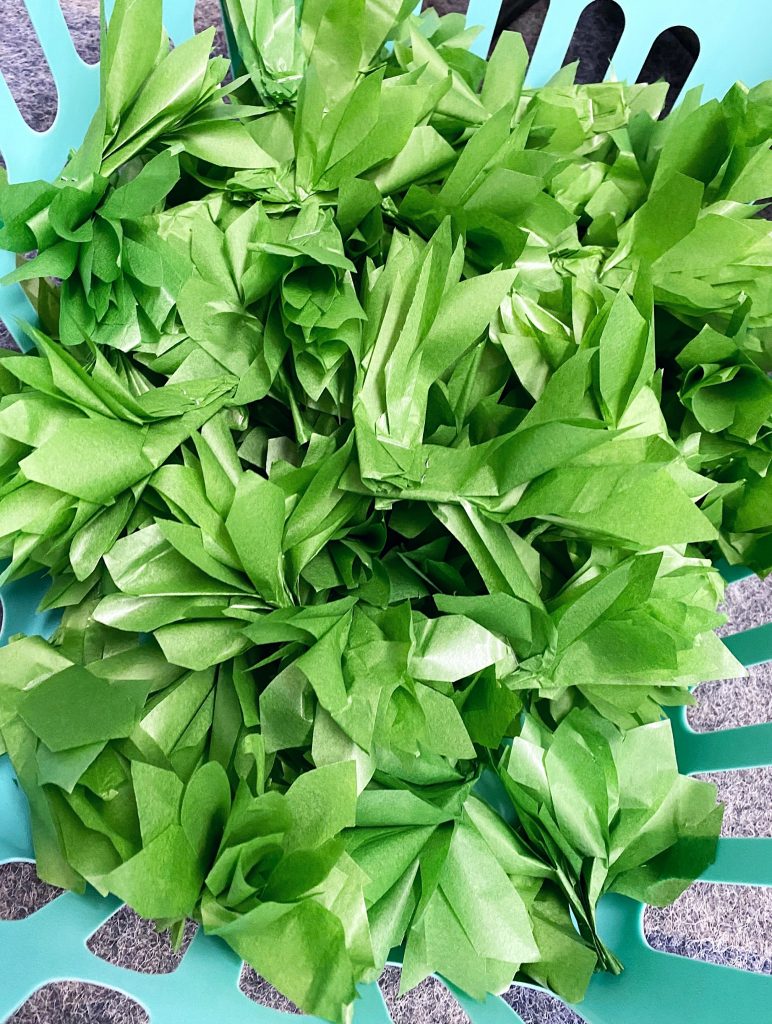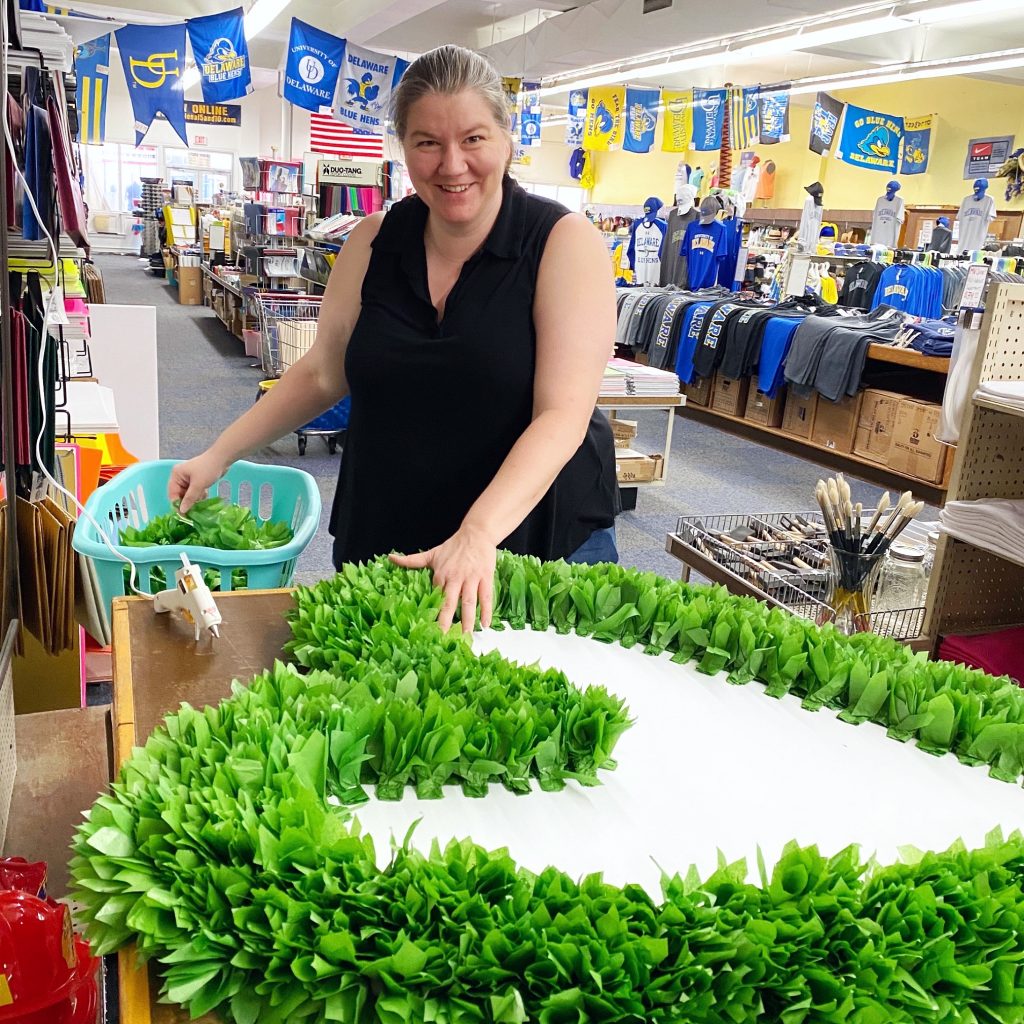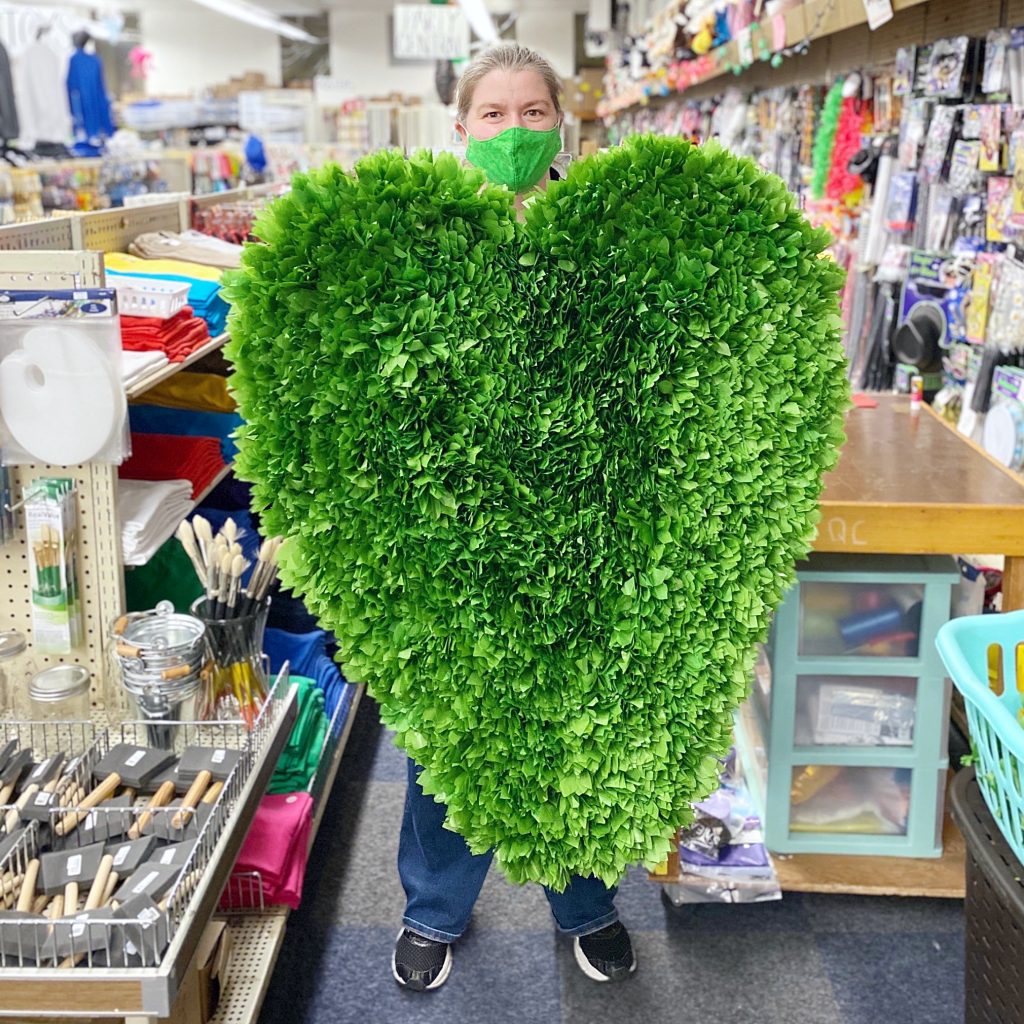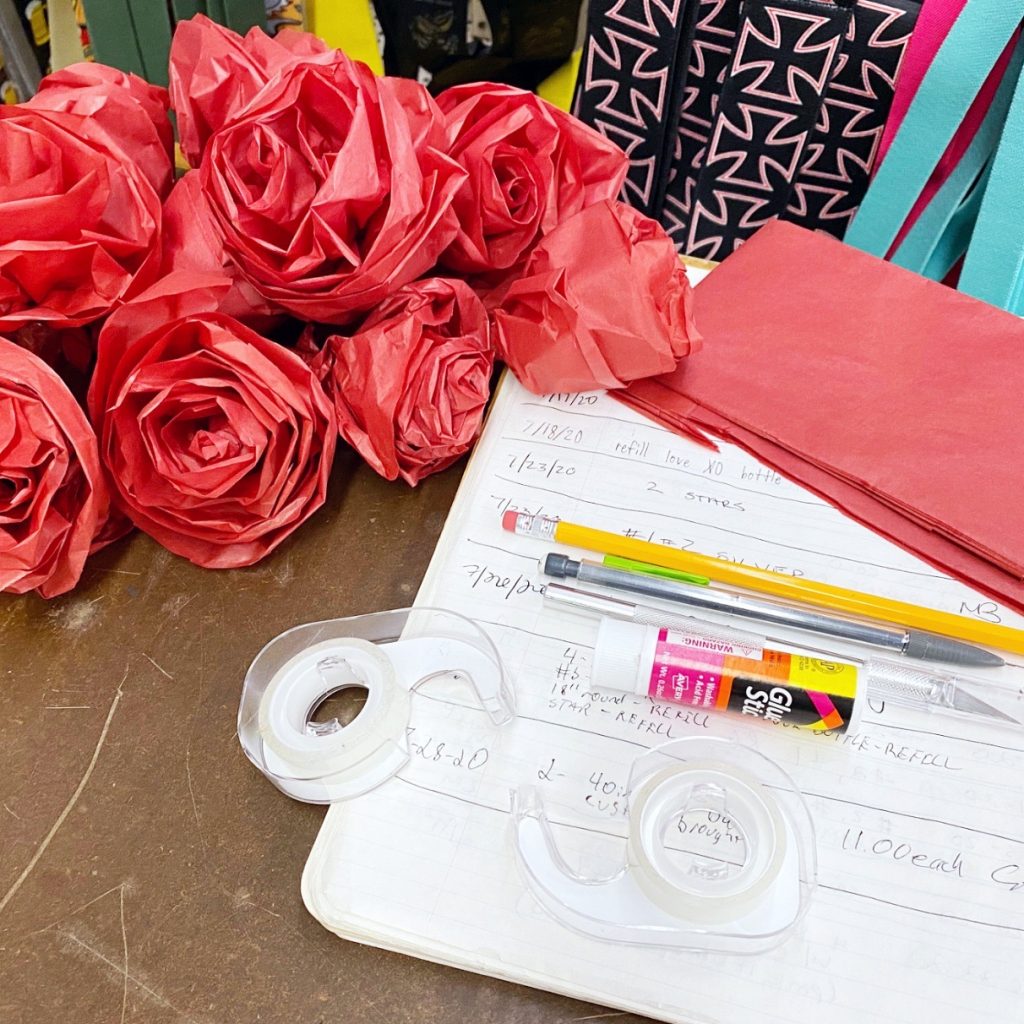 Working (From Home) In Wonderland
Because each window needs to showcase a category of products and this window was essentially a school supplies window, we plopped a desk and bookshelf into a magical flowery garden. It didn't make much sense, but seriously, who cares? We're all mad here anyway, right???
We used a mix of new and recycled flowers in this window. The big pom-pom style flowers were made for a window a few years ago using recycled plastic table covers. The technique was the same as for making tissue paper pom poms.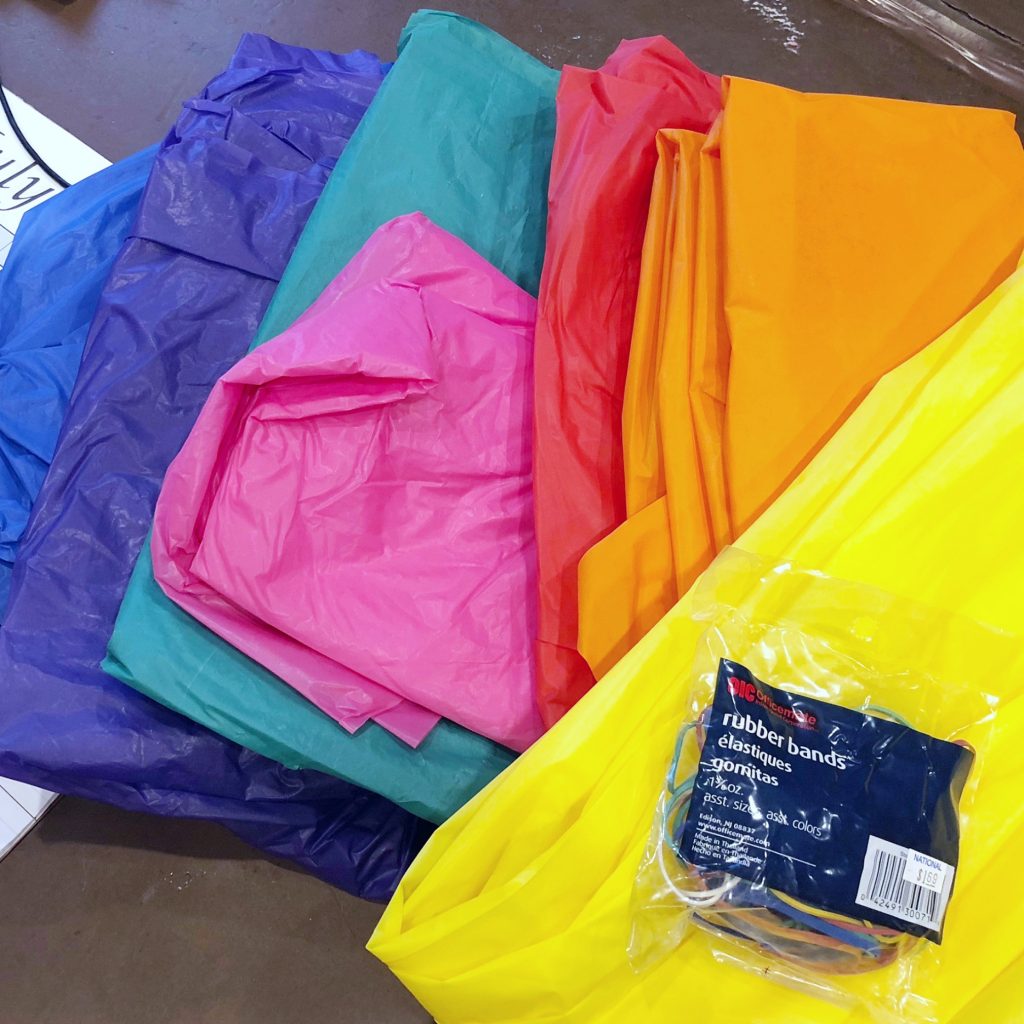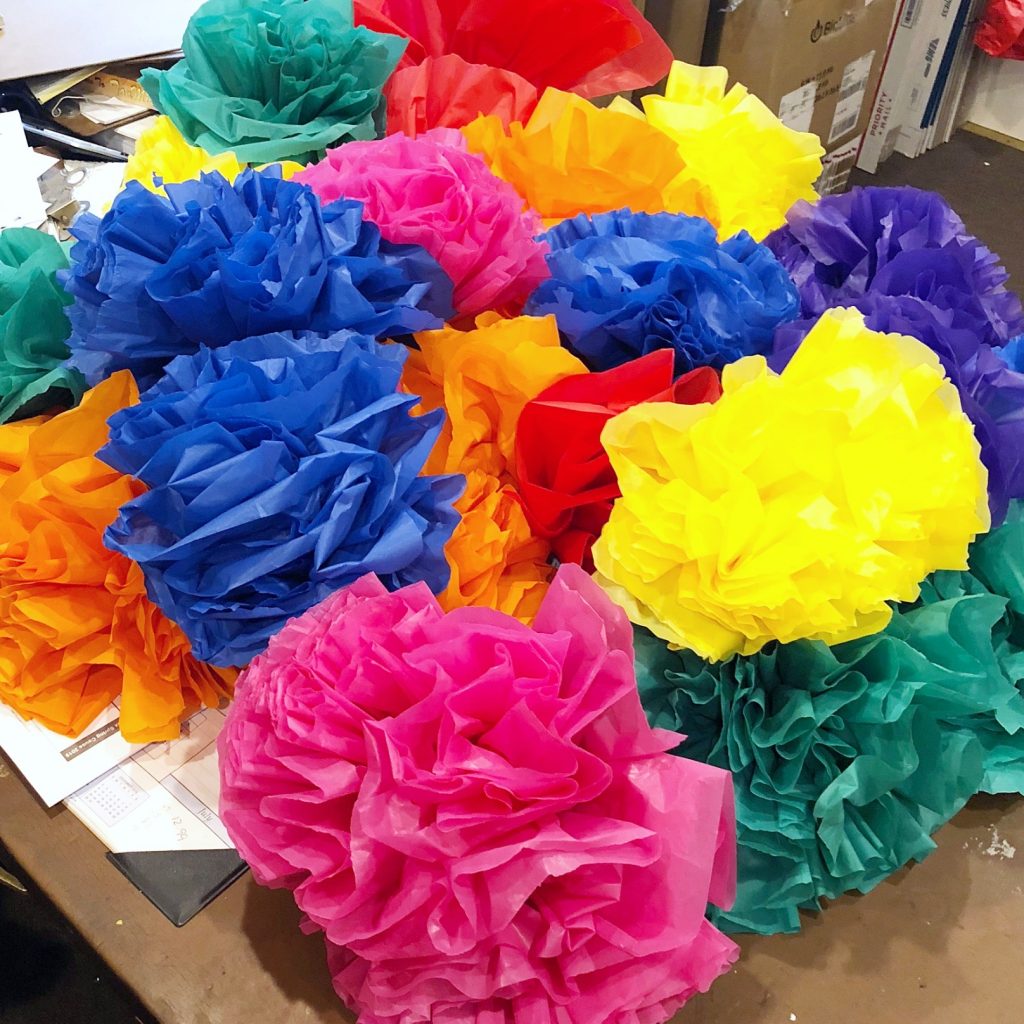 The large paper flowers were made out of simple materials we sell in the store: colored paper, paper plates and hot glue. Different sized petals were drawn free-hand and then cut out and hot glued to small paper plates.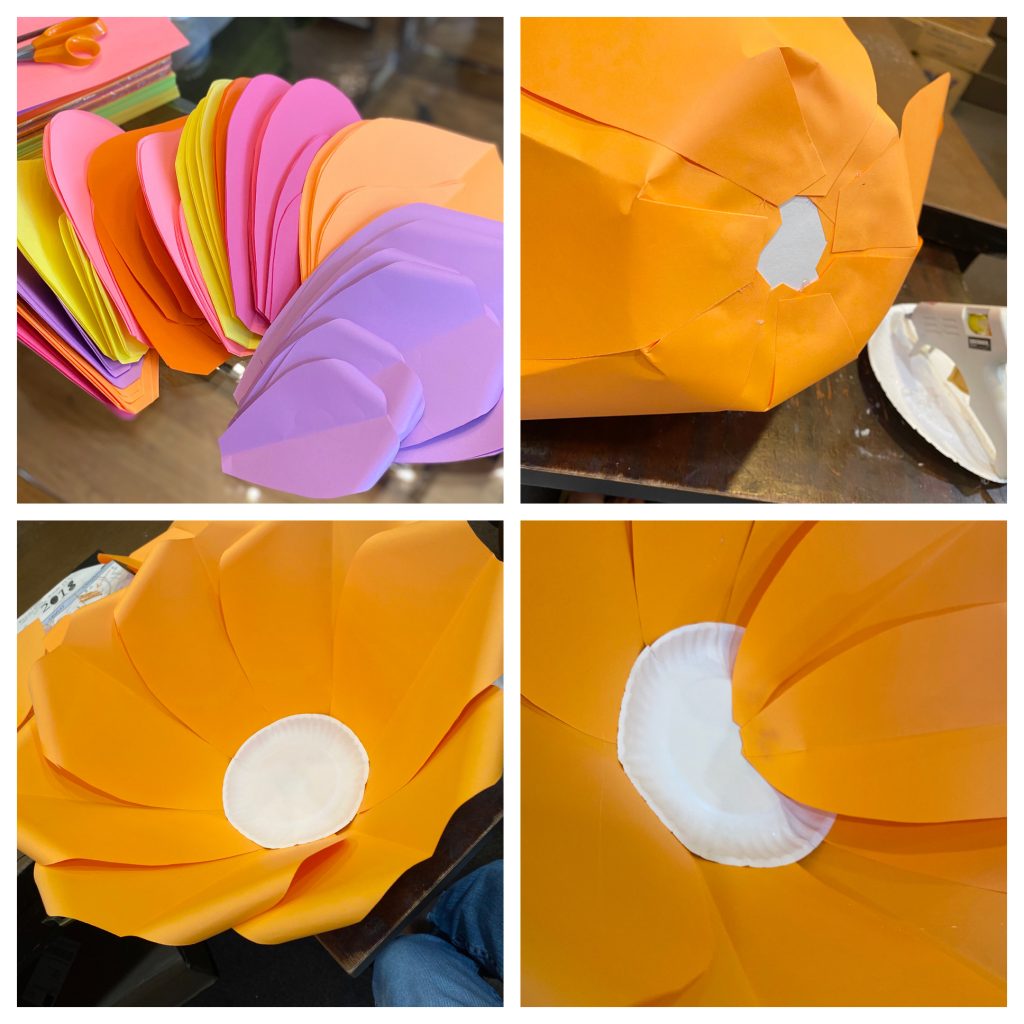 Aren't they so pretty?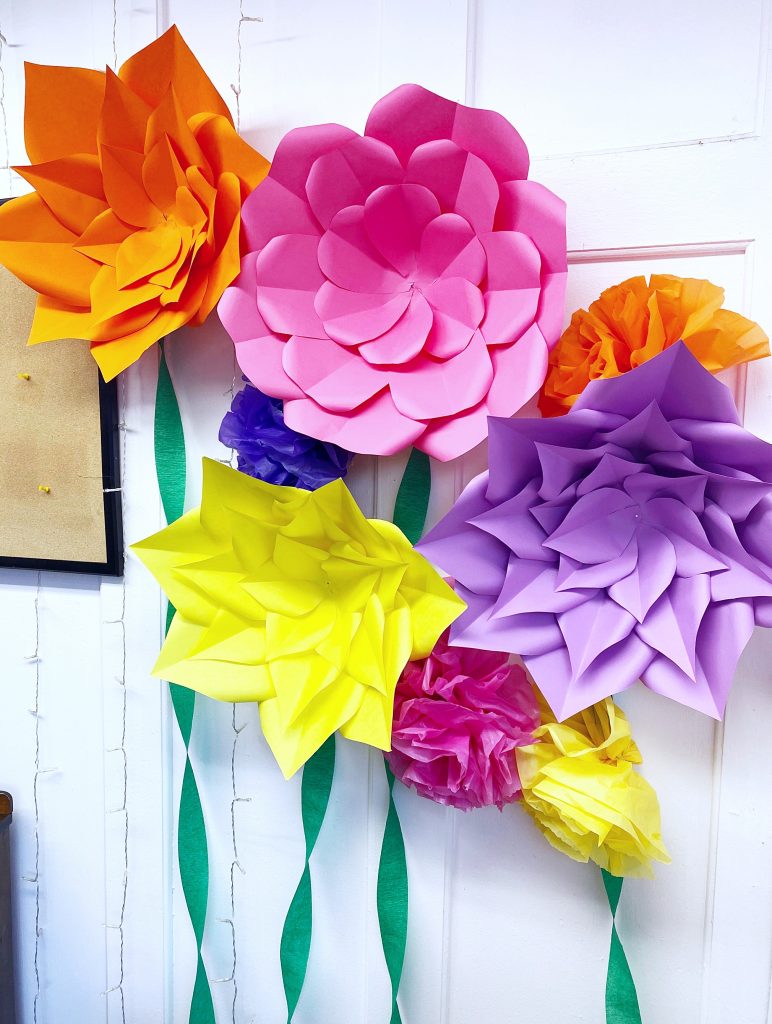 Finishing touches included some garden-y moss, a vintage Alice in Wonderland book and a hand-painted wayfinding sign that highlighted some of our friends on Main Street.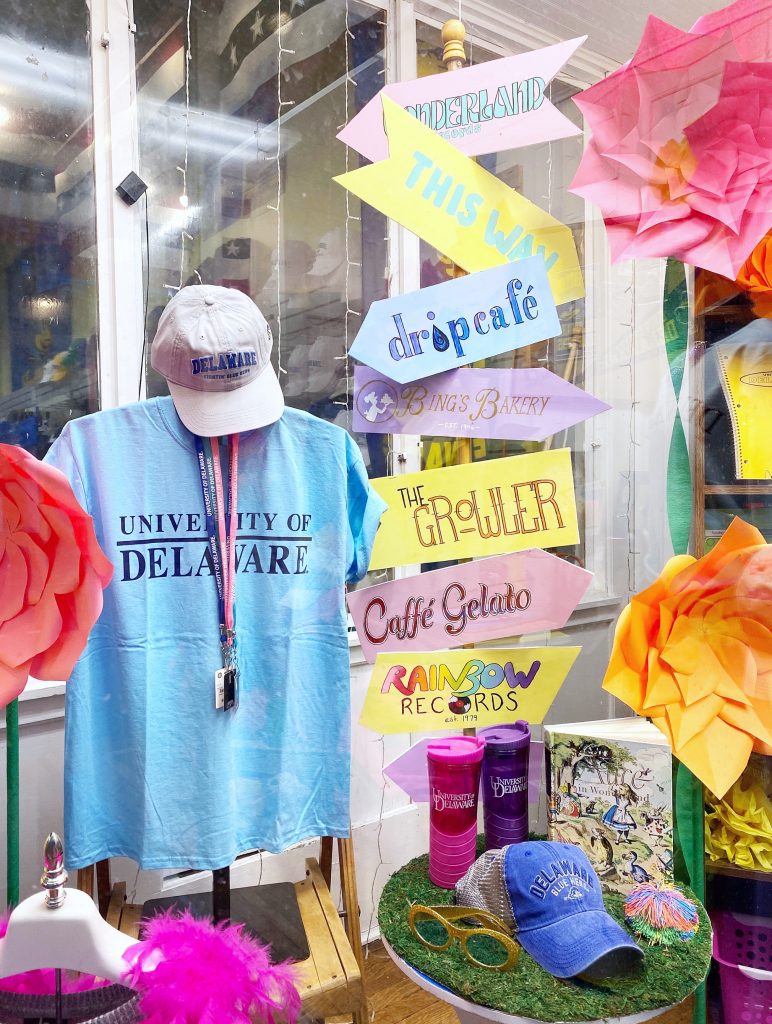 We hope you enjoyed these windows as much as we did and were inspired by the projects! We love challenging ourselves to see what we can create with the things we sell. You can see more photos of our windows on Pinterest and on most Wednesdays on Facebook. Stay tuned for our Halloween windows coming soon!