If you're just joining us, this post is part of our virtual "Blue Hens in Wonderland" theme party. (You can find the back story in our previous post.)
Today we'll be spilling the T about what Alice, The White Rabbit, The Cheshire Cat, The Queen of Hearts and The Mad Hatter are carrying around in their bags. If you think us mad, it's ok. We're all mad here! We're under absolutely no obligation to make any sense to you…LOL!
Alice
First up is Alice. The Adventurer. We caught up with Alice just before she fell down the rabbit hole to find out what she would be taking on her adventure. Here's what we found in her bag…
Ready for anything, Alice had band-aids, wet-wipes, umbrella, sunglasses, gum, extra hair accessories and loads of tissues…she's a crier, you know. Just in case it was cold, she grabbed her Comfort Colors Delaware sweatshirt and, of course, she was prepared with a notebook and pen to document her adventures.
The White Rabbit
Next up, we have The White Rabbit. A meek and skittish character, who is always running late. Here's what he had in his bag…
No surprise…that rabbit had an alarm clock! He's also super nerdy in person, so he had all kinds of school supplies from calculator and ruler to magnifying glass and pocket protector. We loved his white gloves and glasses and the bunny toy he had purchased for his grandson. Awwww.
The Cheshire Cat
Mysterious and not all together there, the grinning cat was a tough one to track down. When we did, we were surprised at what was in his bag…everything was color coordinated to match his fur! He did also have some pretty sweet sunnies and a hat to keep the sun off his head when it's free floating without his body. #crazycatproblems
The Queen of Hearts
As one would expect, The Queen of Hearts tried to have us beheaded when we asked about the contents of her bag, but after some back and forth, we got her to spill it.
Had to laugh at the crown tucked away for safe keeping. The ear buds and heart shaped glasses were a fun surprise too. Guess she's tired of so much red because she went for a bright yellow t-shirt. You'll also notice that she actually had red paint and paint brushes…in case she comes upon any other roses that need painting??
The Mad Hatter
Last, but not least, we HAT to know what was in the Mad Hatter's bag. As we suspected…a whole lotta hats! Plus he carried a complete Tea for Two set and plenty of pens and notebooks for sketching out crazy new hat ideas.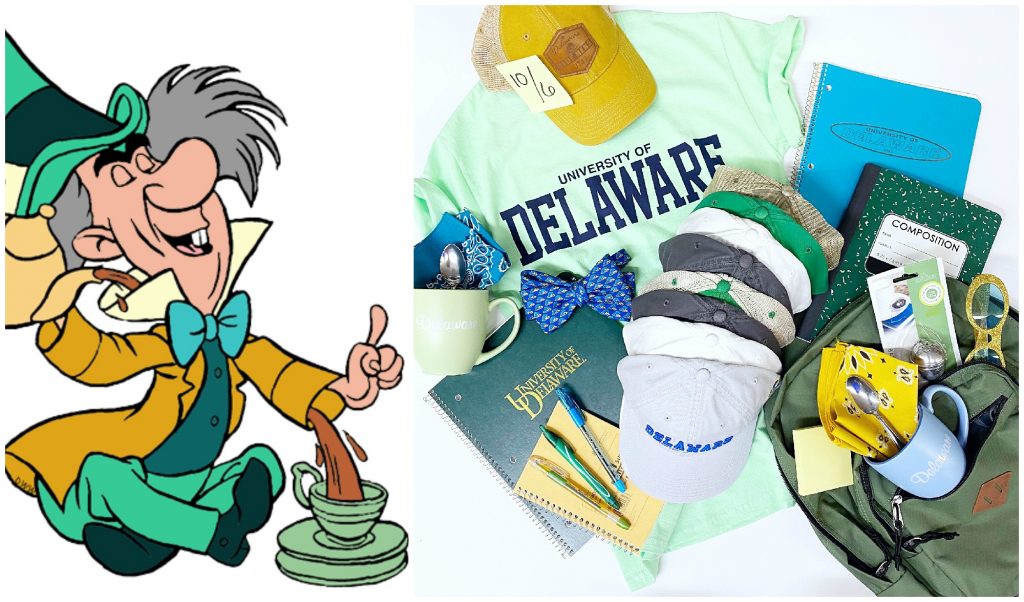 If you would like more information about any of the items in these photos, click on the pics to be taken to the "Blue Hens in Wonderland" Collection on our website. If you don't see it on the website, just give us a call and we can help you purchase over the phone. All orders can be shipped, picked up in-store or delivered via curbside.
We hope you enjoyed this edition of What's in My Bag! Check back next week for another great post!